When you travel to Switzerland, you can experience vastly different types of weather, depending on when and where you go. Not sure about when you want to come to Switzerland for your elopement? What are the perks and disavantages (if any) of each season? I got you covered! In the following article, I'll discuss each season and why you would want to pick that particular time of year, or not.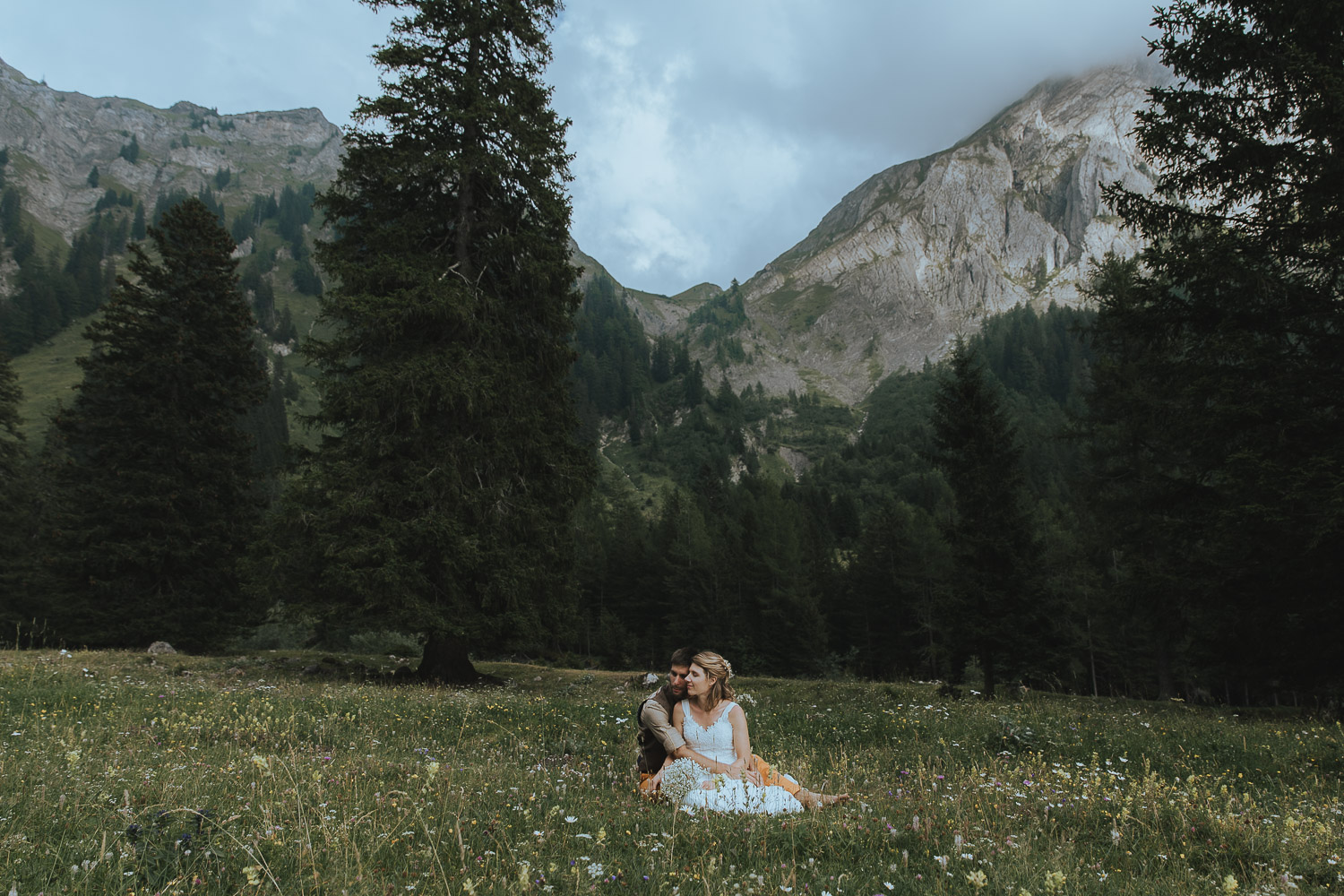 Spring
Although spring technically starts mid-March, I feel like the « real » spring season starts later, as in March there sometimes still snows in the mountains. In fact, we have a saying in French that says « En avril, ne te découvre pas d'un fil. En mai, fais ce qu'il te plait » which basically means that you shouldn't take a layer off in April, and you'll do what you please in May. I find this saying pretty true, as the weather can be unpredictable in March and April. In 2022, it was snowing at the beginning of April!
Let's add that as a general rule, mountain roads that are high in elevation open in May, if the snow has melted enough. Gondolas also often open for summer season around that time. So, when do you want to start planning for your Switzerland elopement? If you want to experience spring here, I would advise you to wait until May! Generally the weather starts to get warmer, and you can really experience that feeling of nature awakening. Keep in mind that you may not be able to go really high in the mountains, but if you're ok with that, no problem at all!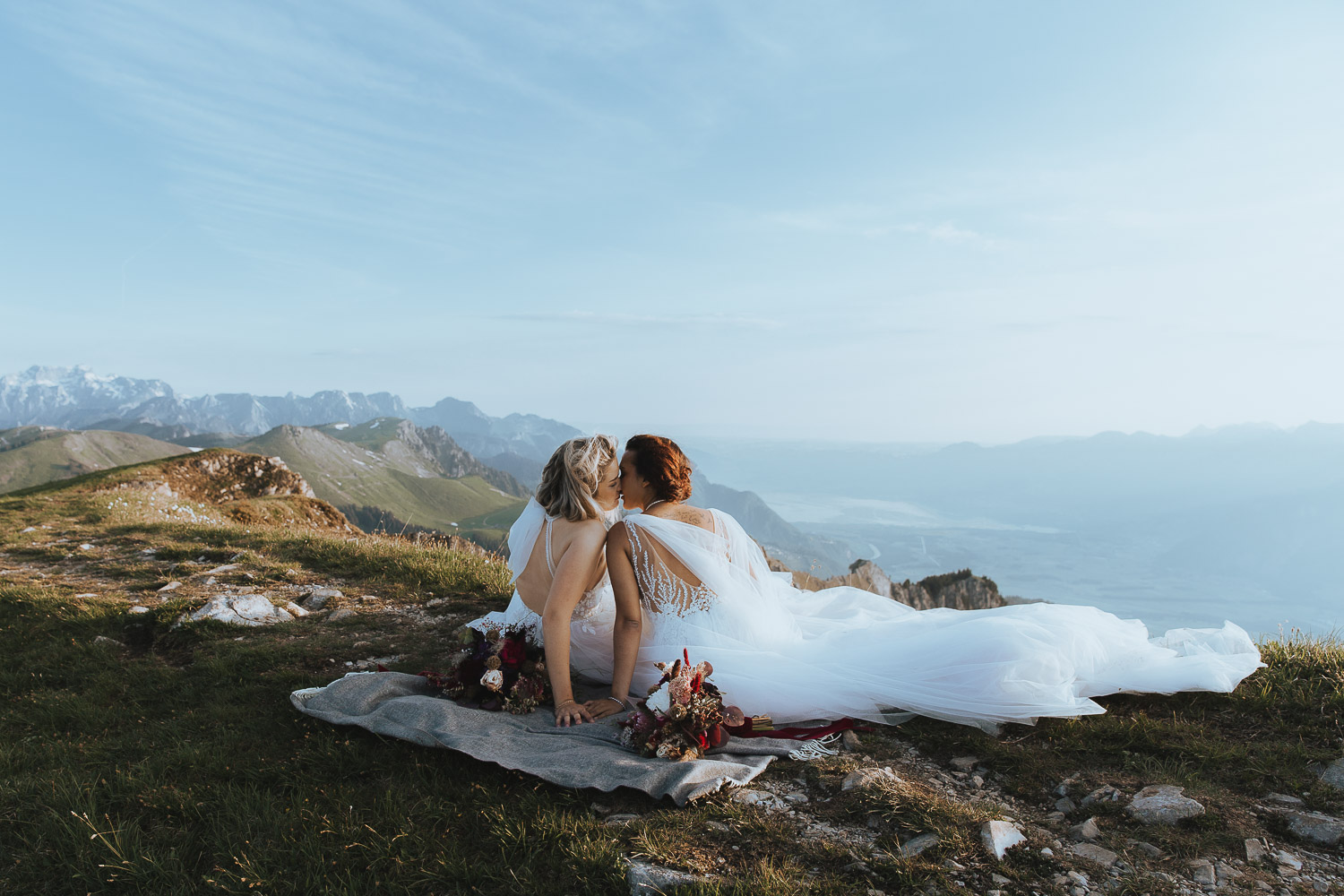 Summer
If you don't like the rain and the cold, then definitely choose summer for your Switzerland elopement! You'll get to experience the warm weather, wild flowers fields in the mountains, the cowbells in the fields,… This is definitely the sunniest season of all, and the warmest too, especially these last years. Which makes a perfect excuse to plan your elopement in the mountains, to escape the heat. There are countless lakes in Switzerland (well actually we've counted them and there's around 1500 of them), and A LOT of beautiful alpines lakes. You don't even have to hike/walk that far to reach some of them. If you're feeling brave, why not take a swim in the freezing water after your ceremony? If not, you can sometimes rent a row boat to enjoy the fresh air without getting wet!
It's also the season with the most tourists with winter, so if you plan your elopement in a well-known area, expect other people/hikers to be around. That being said, I know hidden gems in our country ;). Summer in Switzerland is also the thunder season! I personally love a good thunder in the evening, to refresh the air after a warm day. The weather can change really quickly, and especially in the mountains, so keep that in mind when planning your elopement. If it gets dangerous, I'll make sure to plan a plan B with you.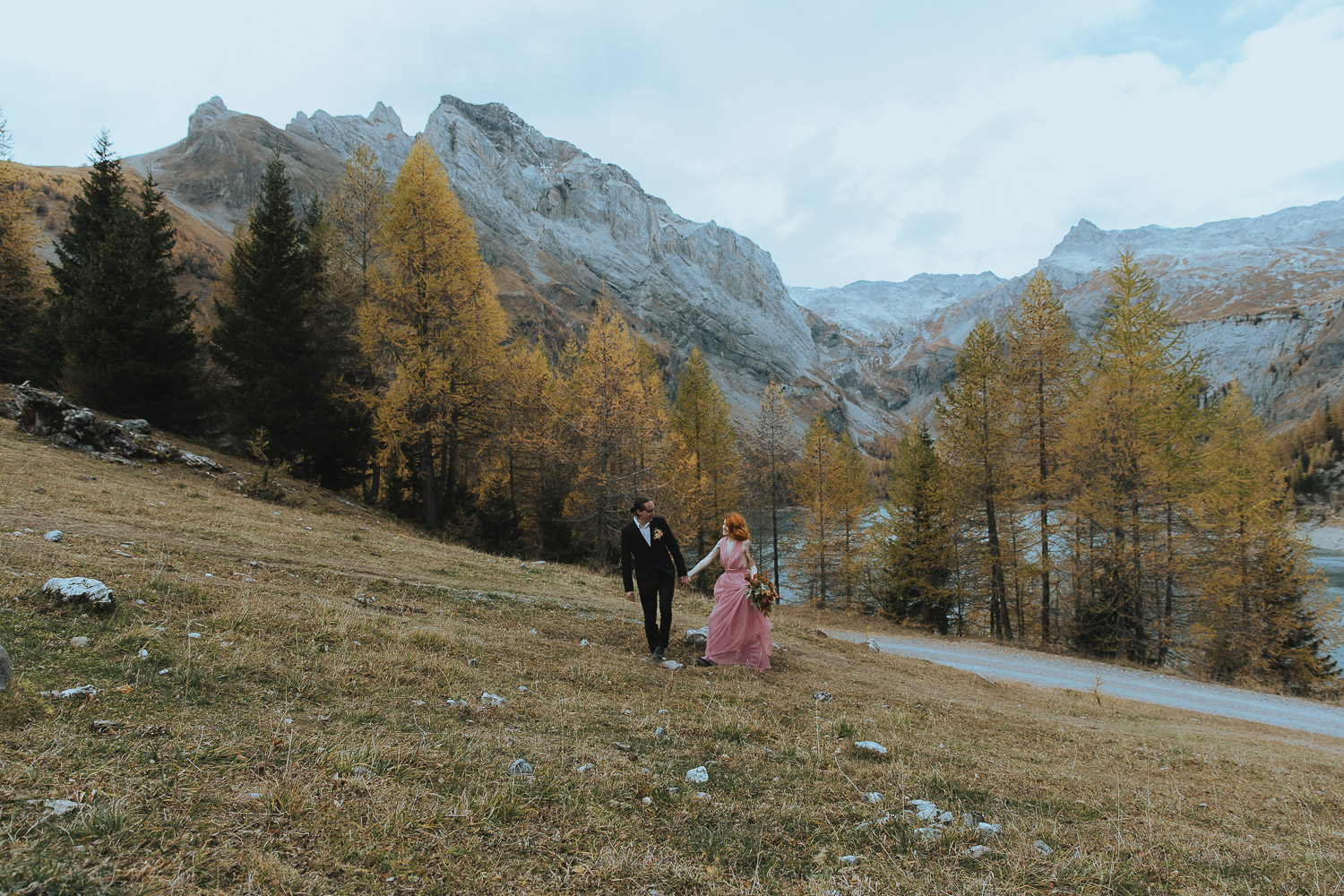 Fall
My personal favourite! Around the end of September, the weather cools down a bit, but it's still warm enough to enjoy days in the sun, and a good hike without sweating too much. The colours turn to orange and yellow, especially in October, and if you choose to get married in a region with larch trees, you'll have the most beautiful colours for your Switzerland elopement! As the days pass by, it gets moodier and moodier, and there's usually more rainy days. I love those foggy shots, and what's more romantic than running and kissing under the rain? High mountain roads, and some gondolas generally close when the first snow arrives in the mountains, which is usually at the end of October or beginning of November. Most mountain restaurants close at that time to, and prepare to re-open for the Winter and ski season.
Winter
My second favourite (yes, I love the cold better!). Ah, to spend a day in the snow and to warm up your feet in front of a fire in the cold evening. Isn't it the best feeling in the world? If you want to experience the magic of the swiss mountains, this is definitely a good time of year to visit! From snowshoeing to eating a fondue in a cosy chalet, the ambiance is truly magical. Spending a day in the snow gets your blood flowing, and can be super relaxing.
The snowiest months are January and February, and now the snow can be a long time coming due to climate change, so keep that in mind when choosing the date. Of course, all of these are general rules, but the weather can be pretty unpredictable all year around in Switzerland, so always come prepared just in case! And of course, the climate can be super different from one place to another. Depending on what you like, I can guide your choice of region and specific location!
To sum up, there's no one-size-fits-all here. Depending on the landscapes you like, the temperatures that you can bear and the activities you'd like to incorporate into your day, there's an option for everyone, and that's the beauty of Switzerland!
Now that you know everything about the swiss climate… When do you want to do your elopement in Switzerland? I'd love to help you decide!