Elopements are seducing more and more couples each year, and that's amazing! It means that more couples are listening to what they feel, and choosing to do exactly what they want, even if it's not a traditional wedding. As an introvert and fellow nature-lover, it makes me so happy to see people embrace their uniqueness and make the jump to a unique experience like that!
By the way, hi, I'm Morgane Raposo, a local Switzerland elopement photographer, and I'll be your host on that article. I know planning an elopement can be a lot, especially when you don't live in the country. In this article, I will explain to you which factors can affects the cost of your elopement in Switzerland, give you tips on budgeting, as well as a breakdown of the differents costs!
To me, Switzerland is an amazing place for elopements in the heart of nature. We have a ton of scenic backgrounds, from the most popular to the hidden gems that aren't on any touristic website (spoiler: I can definitely show you those wink wink ). Additionnaly, we have a wide range of activities that you can enjoy during your swiss trip, be it during your elopement or just on a regular vacation day, such as skiing, snowshoeing, sledging (even in the summer), paragliding, swimming in beautiful lakes,… And finally, we are at the heart of Europe, meaning you can easily make the most of your europan trip and jump on a train to nearby countries, such as France, Italy, Germany or Austria.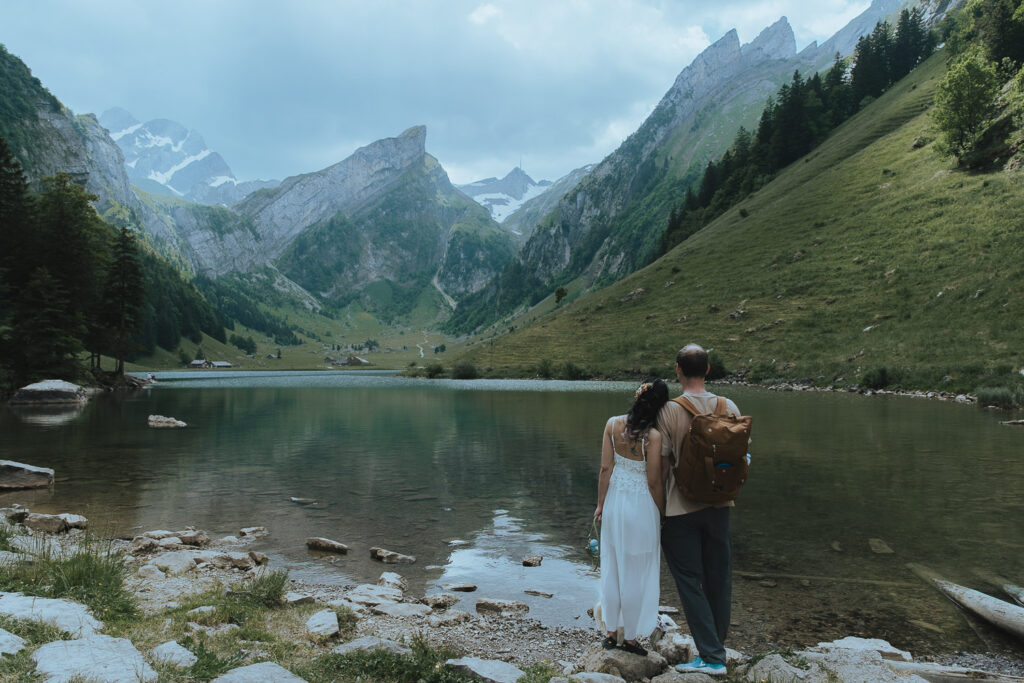 Factors that can affect the cost of your elopement in Switzerland
Seasonality
Switzerland is a popular summer and/or winter destination, depending on places. If you're considering eloping in a well-known area like Zermatt for example, prices for accomodation will be higher during those two seasons. This is something to keep in mind when choosing your date. Furthermore, some hotels apply different prices on weekdays and weekends. You can get a better deal if you book a nice accomodation to treat yourself on your elopement day, on a weekday. This is something I always recommend my couples do, as there's also less people on trails during the week.
Where you choose to elope
As previously said, Switzerland has some pretty famous places that people often have in mind for their elopement. I'm thinking the whole Interlaken area and Zermatt for example. Those places attract the most tourists and thus, prices are crazier there than they are in lesser-known locations. That being said, accomodation in Switzerland is generally expensive (even for us with our swiss salaries, yes), unless you sleep in a mountain hut on top of a mountain.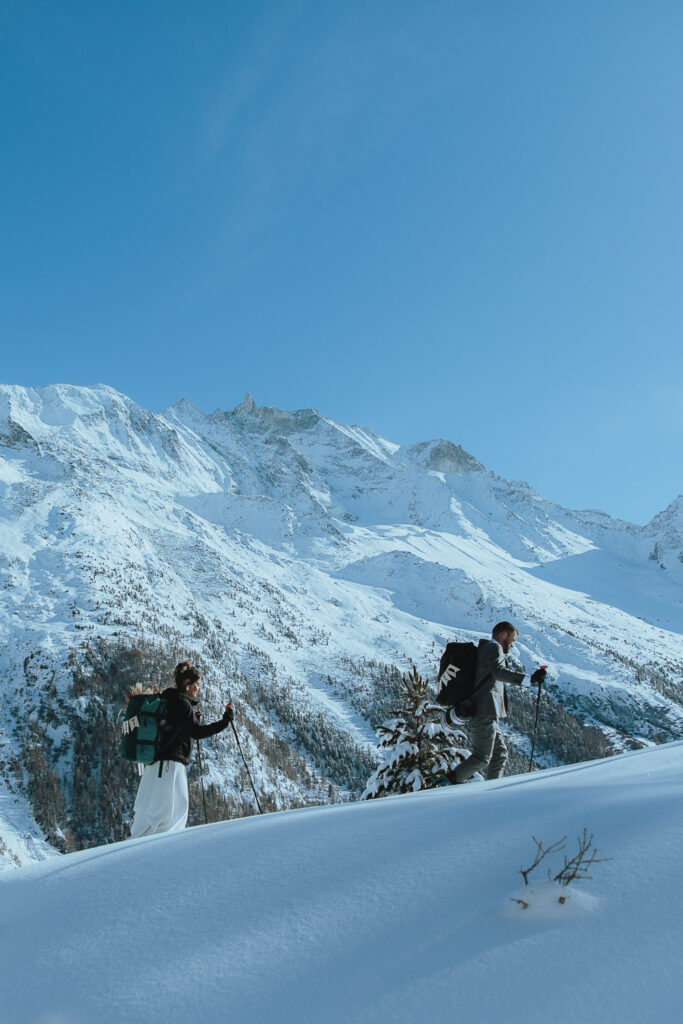 Budgeting for your swiss elopement
Setting a realistic budget: choose what's important for you
There's a lot of things to take into consideration, and I know it can make your head dizzy. Between lodging, food, transportation, and then the more elopement-related things like attire, celebration, etc, there's a lot to think about! My advice here, is to make a list of priorities. What is absolutely necessary for you, and what can you leave on the side? Take a moment to dream about your perfect day and what it would include, and go from there! Are you waking up in a 5* hotel? Do you have a private chef catering you an amazing grazing table after your ceremony, or are you having your favourite hiking meal (for me, it's pasta salad) because it's more meaningful to you? Prioritize splurging on what will truly make you happy! It can be everything, or just a few things, there's no right or wrong here.
Cost breakdown: travel, accommodations, ceremony, etc.
Here are the main aspects you'll have to take into consideration when planning and budgeting for your elopement in Switzerland:
Travel: obviously, from and to your country, but also in Switzerland. Are you going to take a train pass (we have a really good train system), or are you renting a car?
Accomodation: do you want to stay in Bed & Breakfasts, luxury hotels, mountain hotels, or airbnb appartments? Or a mix of everything? Pro tip, choose a nice accomodation for your elopement day. The pictures will look better, and it'll be the cherry on top of the cake when you come back and can unwind in a cosy place
Photography: do you imagine spending the whole day with your photographer, or just part of it?
Videography: same question! A video can transport you back in time and is a lovely add-on to your day.
Planning: some photographers (like me) offer some level of planning advice, location scouting, etc, in their services. If want someone to help you book certain vendors, you can also hire an elopement planner on top of it.
Ceremony: Are you exchanging vows on your own, or would you like a more elaborate ceremony, with a professional celebrant helping you crafting it from scratch? I'm not talking about the legal ceremony, which is a whole other thing. I always recommend couples that want to get married legally to do it in their home country, as getting married as a foreigner in Switzerland can be tricky, since you either need a swiss passport or swiss residency.
All the other aspects of a wedding: hair and makeup, attire, flowers, etc. I'm going to touch on this in the next section!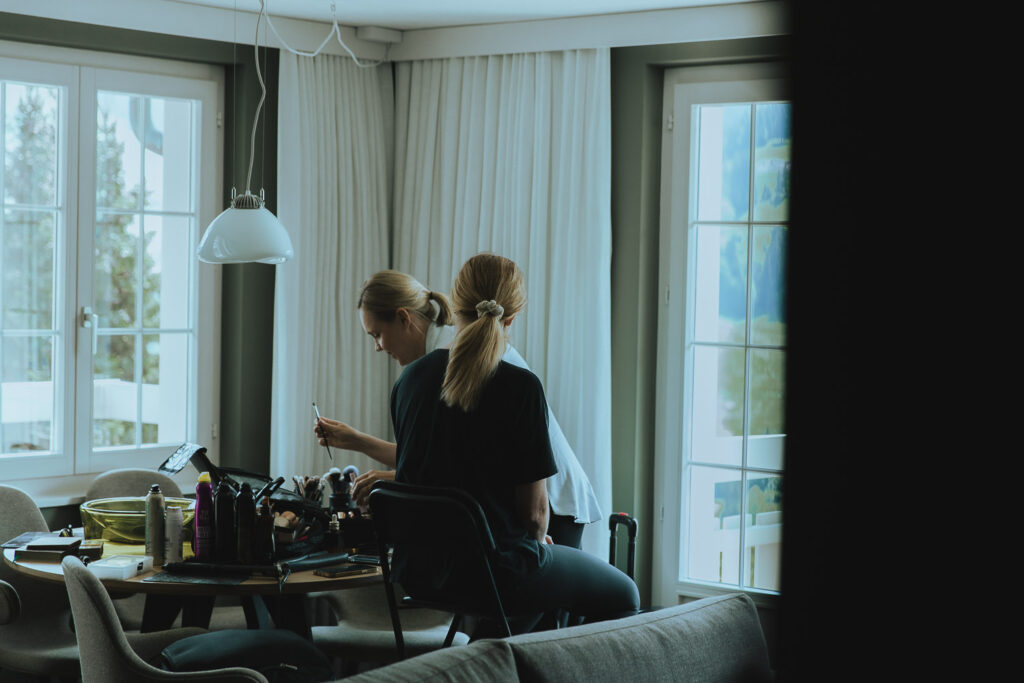 Average Costs for Elopement Services in Switzerland
Disclaimer: I do not know the exact prices of every category, these are general prices from what I see in the industry. Prices are very much reliant on every professional and his way of doing life and business. Think of it as an initial price range to help you get a general idea. I am also thinking of packages in terms of half day/whole day experiences, not just 2-3 hours.
Photography packages: an elopement photographer in Switzerland can start from ~3500CHF. Keep in mind that elopement photographers often offer additional services in their packages, such as location scouting and help with designing your day. This can make prices vary a lot.
Videography packages: as for photographers, it depends on how much coverage you choose. Prices can start at 2000CHF for a small package.
Symbolic ceremony with a celebrant: From 1000CHF.
Hair & makeup artist: from 500CHF.
Dress: From 2000CHF. If you want to keep the cost low, buy second-hand!
Suit: From 1500CHF for a tailor-made suit, less if it's from a ready-made shop.
Flower bouquet: From 150CHF.
Hotel: from 80CHF/night for a basic hotel, to 500CHF/night or more for a suite in a 4* hotel.
Transportation:

Public transport: you can get a Swiss Travel Pass with unlimited trips (apart from certain mountain trains that are owned by private companies, and cable cars), for 3 to 15 days of consecutive travel, and these range from 230CHF to 430CHF (2nd class prices).
Rental car: from 50CHF a day.

Restaurants: from 40CHF/person (not counting the daily menu that are often cheaper) for a simple meal and wine, to 100CHF/person or more for a fancy restaurant.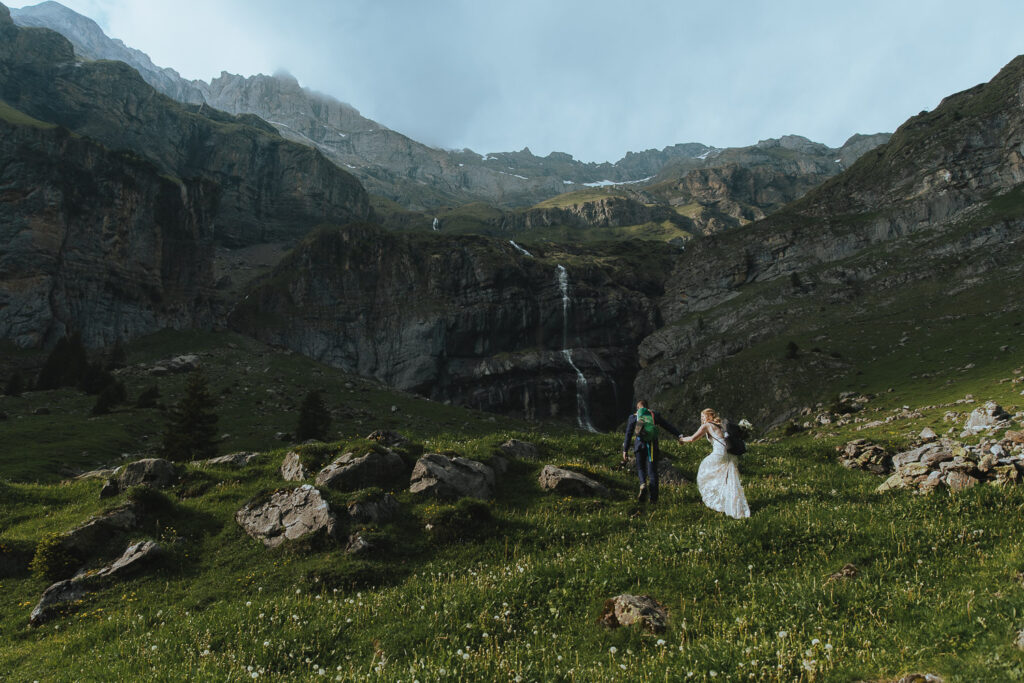 Tips For Keeping The Costs Of Your Swiss Elopement Down
No, it's not bargaining with vendors, don't do that! Now that this is out of the way, here are some tips to keep your costs down.
Hire local vendors whenever possible: the less they have to travel, the less travel fees, obviously.
Book your accomodation early!
If you're planning on travelling with public transport a lot, buy a Swiss Travel Pass. The train is really expensive here.

A sidenote on train tickets: for a set journey (for example, Zürich to Luzern), the price will always be the same, unless you check the days before on the app and find a discounted ticket. Other than that, if you buy a one-way ticket, you can use it on any train that runs between the 2 locations, for a set number of hours, and you don't have to make a reservation. This is different for other neighbouring countries like France and Germany, this is why I'm pointing it out. For mountain trains and cable cars that go to touristic destinations (like the ones in the Jungfrau region for example), you will still have to pay even if you have a Swiss Travel Pass. Always check on each region's tourism website for exact fares.

For attire, and especially for dresses, buy second-hand! There are more and more shops and websites everyday, like stillwhite.com for example. You don't even have to buy a white dress if that's not your thing!
Some grooms choose to wear something simpler than a suit. A white shirt, some nice trousers, and some accessories like braces or a bowtie can look fabulous too! There are no rules, as long as you're feeling beautiful, elegant and comfortable.
Lastly, I want to emphasize that no matter what you do, Switzerland is an expensive country (no shit Sherlock!) and if you want a whole-day experience and hire talented people, this will have a certain cost.